Want to get real results? Work with Janeen and see results!
Book with Janeen
See all Services and Schedule
A little about me, my life, and my achievements.  This sport changed my life and it can help change yours too!
Testimonials from the athletes Janeen has helped meet and exceed their fitness goals.
Check out my my titles, progress and long history of the sport I love.  Its been an awesome 20 years!
As a person, athlete and ambassador to the sport of bodybuilding, I believe that inspiration comes from within. A willingness to produce and develop in all aspects of life, stimulates the mind and body in creating the image of who you are. Years of training have taught me that perseverance comes from integrity and self-determination.
Just have fun! Love life… Train hard… Always reach for the stars!!
Everyone has A GOAL and A DREAM.
Competition can be very challenging and also very rewarding. It takes a lot of drive, work, discipline, sacrifice and commitment to achieve your goals and dreams.
You have to get out of your comfort zone to find what drives you for success. If you stay comfortable, your exercise routine and physical progress can remain stagnant.
Knowledge is Power!!  I have been in the fitness industry all my life, from a young national gymnast, to being a coach – then from a fitness girl to IFBB PRO Bodybuilder. I have over 27 years of experience dealing with everything that can be thrown at a person and have learned the the required disciplines and harnessed a Blueprint Lifestyle that will help bring the success individuals so deeply desire. I have achieved my goals and worked with many athletes as well as non-athletes to reach there goals.
I'm commited to sharing my knowledge, understanding and counseling to my clients as everyone and every individual has different requirements and desires. Proper balance in nutrition and training is key!
I am a strong believer in having balance and achieving inner peace in everything we do in Life.
I work not only with athletes, but with all people who want to make a positive change in their life. I am here to support to all who seek to be healthy, happy, and would like to achieve a healthy weight, learn to cope with and manage medical conditions and to provide life coaching and counseling.
Janeen Lankowski is an excellent trainer. She is the perfect combination of tough and warm and she works with the whole person – mentally, emotionally and physically. She knows just how and when to encourage and when to push, though never too much.  Her professionalism, extensive knowledge and enthusiastic commitment to her work and ultimately her clients, provides the perfect scenario for success and sets foundations for a new healthier lifestyle! Janeen is the real deal in an industry full of wannabees and is the standard by which any trainer should be measured. We recommend her without reservation!!!
My name is Jessica Hecktus, I am 27 years old and last November I came to Janeen Lankowski, IFBB Pro, for help in competing in my first ever figure competition. Janeen has been a family friend and true inspiration and when she helped my dad successfully compete 3 times in the past 3 years, I knew that she was the coach to have. I had never competed before, and I am pleased to say that I just competed this past weekend at the GNC Live Well Stratford Championships, and finished 1st place in my category.
Janeen was there to guide me from the very beginning. She set up a specific diet and training plan just for me and made changes whenever needed. Every week I would send her updated pictures and we would go over what to change; she was available 24/7 whenever I had questions or concerns. She is truly a book of knowledge when it comes to health and fitness and she has such an enthusiastic passion to help people reach their goals. She helped to guide me and educate me on my fitness journey, equipping me with the mental toughness to push myself to reach my goals and even exceed them. I am in the best shape of my life and I feel healthier than ever and cannot wait to see what the next 7 weeks brings me, as I continue to train for the next competition.
If you are looking for someone that is extremely knowledgeable and genuinely cares about helping you reach your health and fitness goals, then Janeen Lankowski is the person you want training you!
My name is Mel Gall,
I have been in the fitness industry for almost 20 years, from coaching, personal training, teaching many different classes, former gym owner, fitness model, competitor and training competitors.
I met Janeen at the Olympia many years ago, we became friends and she has helped me with many obstacles. With diets and some of the competitors I needed some of her expertise advice. When I competed my last few shows she guided me with my diets and advice. I took 1st and overall…. With her help and knowledge I was able to reach my goals.
She has also inspired me with many of the injuries I have. Being unable to perform any type of impact in my training she has given me confidence to keep training.
She is always there and has supported me in so many ways.
Janeen has the knowledge, drive, guidance, and personal attention that is so important in a trainer.
She is a great asset to the sport and anyone who has any type of fitness goal's she will get you where you want to be. Mel Gall
Under the nutritional guidance and other training advice from IFBB female pro bodybuilder Janeen Lankowski I was able to lose nearly 30lbs and gain muscle mass over a period of less than 1 year. This was instrumental for me in under the nutritional guidance and other training advice from IFBB female pro bodybuilder Janeen Lankowski I was able to lose nearly 30lbs and gain muscle mass over a period of less than 1 year. This was instrumental for me in my preparation for my first NPC bodybuilding competition in July 2013 in which I placed 2nd in my age group. Janeen is a great trainer and motivator, She is highly knowledgeable and skilled. I recommend here with the highest level of enthusiasm for weight loss. weight training or wellness guidance, whether it be for attaining overall health or for preparation for bodybuilding or physique competitions.
Michael Hecktus-Entrepreneur-Visionary Trainer-Personal Fitness Coach-Business and Personal Development Coach
My success in business has come about through my desire to inspire other people to reach greater levels of personal and professional success.  I truly believe the mind is the greatest muscle but the entire machine works as one so for that reason, I have been a true fitness advocate for over 30 plus years.  Being fit is a full mind, body and spirit experience.
Being a Personal Development Coach and mentoring others to achieve their dreams is my true passion so when Janeen approached me and suggested I try stepping on the competitive stage I thought sure, I can do this, I've been training for many years I love the gym, my mindset is right, all I need to do is follow her diet and her training regiment and lets give it a try.  Well I have to say, this girl is amazing, she could tell by my physique weekly what I needed to add to my diet or workout, where to tweak my carbs or fats and where to change an exercise.  I have never met a Coach with such knowledge and that acute eye for whether your on track or not on track.  I hit the stage at age 52 for my very first time, weighed in at 184lbs and at 5%BF, I took first place in my regional qualifier and then place third overall in the Provincials at the Toronto Pro Show.  I think the hilite though was placing second in the open class with all the young up and comers, not bad for an old fart.
Janeen, you are amazing and I will never forget our journey and will continue to endorse your knowledge and passion for our sport.
My name is Andrew Wallitschek. I have always had a passion for training and bodybuilding. It is an aspiration of mine to continually better my physique and health.
I met Janeen Lankowski in late 2009. We instantly clicked and became close friends. She shares my passion for training and a healthy lifestyle. I have watched as she has battled hardship after hardship and eventually won her ifbb pro card.
As a coach, she is simply amazing!!! She has a wealth of knowledge to offer. What really amazed me is how she maintains a very positive attitude and mindset, even when things get so hard. Not only has she helped me change my physique and become more healthy, but what amazes me most is her ability to support me at my weakest and coach me through my moments of negativity. She can really lift you up when youre down, tired, and weak from diet and training. She never gave up on me, even when I was ready to give up on myself.
Whether youre aspiring to compete, or just want to become more active and build a healthy lifestyle. Janeen is no doubt the best choice you could make.
I'm astounded by Janeens creativity and professionalism. Her ability to capture my personality and style and convey that through the routine blew me away especially considering we only spoke briefly backstage during finals at the rising phoenix championships which was just about a month out from the Olympia and she took me on without even blinking an eye! She delivered the routine in less than a week along with a step by step breakdown to help me learn it quickly.
Considering we were both scheduled to be on the Olympia stage competing against one another, she already had a bunch of other clients and also had to deal with all the elements of preparing herself for competing her willingness to help me was just really genuine and unbelievable to say the least. Not only does that speak to her professionalism but also her sportsmanship!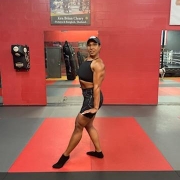 As a competitive bodybuilder each working part of the process is vital to ensure you are presenting the hard work you have been putting in for days, months and sometimes years. Seeking help is necessary at all levels and without the help and guidance of Janeen I would have been lost. The details and fine tuning assistance she provided in my posing sessions made 100% difference in my confidence on stage. She was able to capture who "I am" in my routine and the music chosen. What also stands out is her response time and personal touches. I will be using her services again in the future. Thank you Janeen!
I hired Janeen to choreograph a routine for my upcoming show. I was competing in the physique division and really needed help.  I can't thank Janeen on her amazing routine she had created for me. She was always right there every step of the way. And, to put the icing on the cake, I end up winning my Pro Card. So, Janeen is the person I would recommend to anyone that is looking to have an exceptional routine and experience over all. I just ♥️ her!!
Thank you for everything,
Heidi Shotmeyer
Next Show?
Contest History
2021 Ms. Olympia – 8th Place
2021 Rising Phoenix World Championship – 7th *2nd Best Poser
2021 Savannah Pro – 2nd Place
2021 Tampa Bay Pro – 3rd Place **First Best Poser
2021 Norfolk – 2nd Place **First Best Poser
2020 Ms. Olympia – 15th Place in Bodybuilding
2020 IFBB Rising Phoenix Pro World Championship – 10th Place in Bodybuilding
2020 New York Pro – 4th Place in Bodybuilding
*1st Best Poser
2020 Savannah Pro – 9th Place in Bodybuilding
2020 Tampa Pro – 2nd in Bodybuilding
*1st Best Poser
2019 Power and Grace Olympia WOS
*1st Best Poser
2019 IFBB Rising Phoenix Pro World Championship* – 8th Place in Bodybuilding
*2nd Best Poser
2019 IFBB Tampa Pro* – 3rd Place in Bodybuilding
*1st Best Poser
2019 IFBB Norfolk – 2nd Place Bodybuilding
*1st Best Poser
2017 IFBB Rising Phoenix Pro – 10th in Bodybuilding
2017 IFBB Tampa Pro* – 7th in Bodybuilding
*1st Best Poser
2016 IFBB Tampa Pro – 8th Place in Bodybuilding
2016 IFBB New York Pro – 16th Place in Physique
2015 IFBB Ferrigno Legacy Pro – 16th Place in Physique
2015 IFBB Tampa Pro – 10th Place in Masters Physique, 16th in Physique Open
2015 IFBB Mile High Pro – 13th Place in Physique
2015 IFBB Europa Orlando Pro – 14th Place in Physique
2014 IFBB Tampa Pro – 16th Place in Bodybuilding
2014 IFBB Chicago Pro – 13th Place in Bodybuilding
2013 IFBB Toronto Pro – 6th Place in Bodybuilding
2012 IFBB Tampa Pro – 3rd Place in Bodybuilding
2012 IFBB Toronto Pro – 6th Place in Bodybuilding
• 2011 IFBB North Americans Over All & Masters won IFBB Pro Card Heavyweight class
• 2010 IFBB North American Championships –2nd Masters 35+ Light-Heavyweight, 2nd Light-Heavyweight
• 2010 CBBF Canadaian National Bodybuilding 3rd Heavyweight
• 2010 CBBF Canadian National Figure, Fitness & Masters Championships –2nd Masters Heavyweight
• 2009 CBBF Canadian National Bodybuilding Championships –6th Heavyweight
• 2009 IFBB North American Championships –9th Masters Heavyweight, 4th Light-Heavyweight
• 2008 CBBF Canadian National Bodybuilding Championships –7th Heavyweight
• 2008 IFBB North American Championships –5th Heavyweight
• 2007 CBBF Canadian National Bodybuilding Championships –2nd Heavyweight
• 2006 CBBF Canadian National Bodybuilding Championships –3rd Heavyweight
• 2005 CBBF Canadian National Bodybuilding Championships –2nd Middleweight
• 2004 OPA Ontario Provincial Championships –1st Middleweight & Overall
• 2003 OPA Western Ontario Championships –1st Lightweight & Best Poser
• 2003 OPA Brantford Championships –2nd Lightweight